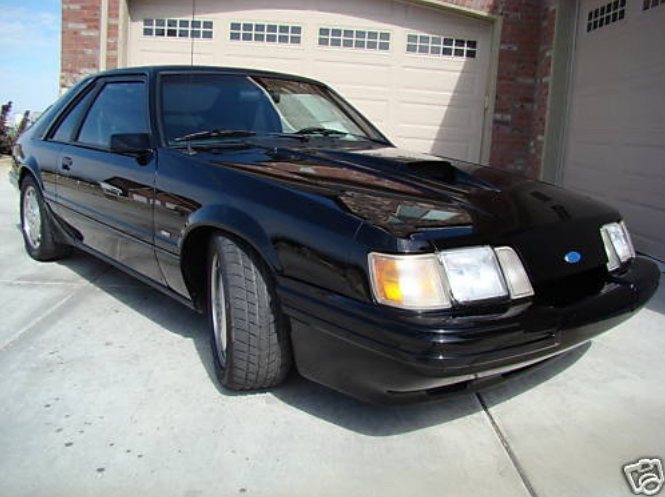 1986 Ford Mustang SVO- I have owned this Mustang for 7 years. As you can hopefully see in the photos the paint on this car is exceptional. Paint is around five years old. It
looks this good still because of high quality material, exceptional body and paint preparation, meticulous maintenance and constantly garaged. When I received the car it was overall
pretty solid just needed some freshening. Entire car was repainted including door jams with the exception of the engine compartment. Car has also been lowered with Eibach sport
springs. Handles great, much more than I dare to push the limit to.
If you are unfamiliar with this model, I encourage you to research it first before bidding. I am not listing everything that was unique about this vehicle from the standard mustangs.
This car has been pretty much-stored full time for the last three years due to a transmission problem with the factory T-5. I ran it periodically and drove it short distances to keep things
lubricated but not driven frequently or even regularly. I have too many vehicles and am finally tired of caring for them all. I replaced the T-5 with a T-5 World class (V-8 model) and a
Centerforce Dual Friction clutch. This was done last week. I have also recently replaced all four brake calipers and brakes and tires.
Interior is good condition but reupholstery would need to be done to be pristine. Look at pictures to see the major issues with the interior. The cloth on the drivers side upper bolster is
worn through (not pictured). The dash pad is cracked. There is a small cutout (about 3x8 inches) in the left interior quarter trim. I think previous owner may have had a CD changer
mounted there?
Runs good, AC has been converted to 134 refrigerant and works well. I think there might be a valve seal that is leaking because sometimes on start up there is a momentary puff of
smoke emitted. This seems to be dependent on where valve position sits once engine is shut off because it doesn't do it all the time. I have an additional cylinder head that can go with
the car if desired. It isn't rebuilt, but that it why I bought it. I have the original air intake assembly and original shifter handle also.