138,600 Miles on
Paola KS USA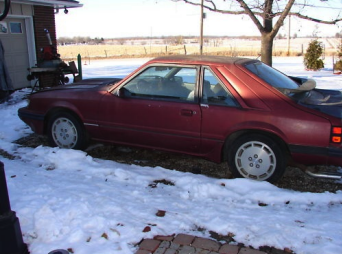 This is 1984 Mustang SVO Turbo 4 cylinder I bought a few years ago in Clifton Arizona. It has a 5 speed and has not been modified from the original factory. It has no rust at all.
It does need paint and interior. The tires are weather checked. I bought it with head cracked. So I pulled the motor and replaced all the parts including the head with new or rebuilt parts. It has new pistons and rings and bearings, oil pump and a roller cam.The clutch I replaced, and water pump, belts also both fuel pumps and filters. I was fixing it up to
keep and drive. I haven't started it yet. You need to finish by getting the engine running. I have fuel to the rail and spark but I don't have it running yet. I had it in my shop and
have no room for it and I.m not going to work in the snow to get it going. The battery is also new. I'm getting old and just don't want to screw with it. Just plan on doing alot of
prettying up and getting it running. You will have to tow it or trailer the car which is what I would do. There isn't many of these left and this one has alot of new parts in it. BUT
your buying it as is and it is also for sale here so it might sell here. You can call me 19135942478. Plan on working on it some and then getting about 22 to 32 miles to the gallon
according to the book. I think the horsepower is about 215 with the roller cam. It has a tear in the lower back bumper and some blinker lenses cracked or broken. Also the rear
hatch shocks need to be replaced. The dash cover is bad and the seats are dirty but not torn. It needs a head liner but I believe the door panels and all the side panels are okay.
The carpeting is dirty. The electric windows and door locks work okay. I don't know if the radio is original and I don't know if it works. The inside could be cleaned up and used
except for the dash pad and headliner they are crummy. I have fuel to the rail and spark. I had it firing one time but it got too cold for me, I also have a new under the hood noise
blanket. The wheels are fine and original. The exhaust is bent down some. I did that loading off the trailer. Have Fun Bidding
On Feb-03-11 at 06:02:34 PST, seller added the following information:
I forgot to list the car has factory air, power steering, power brakes and lumbar pump seats. It also has a switch that goes from regular to premium. I believe this car is the fully
loaded one and sold for 14000.00 plus in 1984 when the last gas crunch was. The young couple I bought it from parked to because the head cracked and they told me everything
worked when they parked it.