64,500 Miles on
Northville MI USA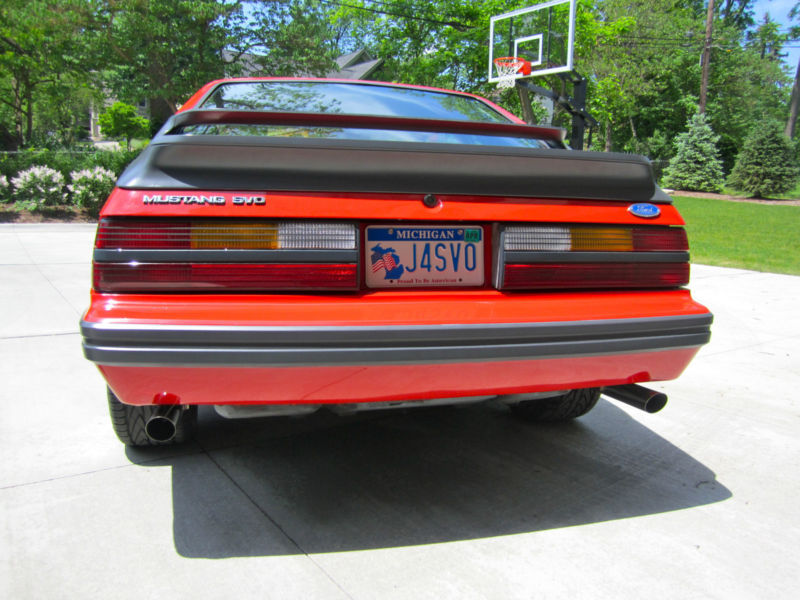 THIS IS A CAR I PURCHASED IN JUNE OF 05'.
THIS SVO IS CLASSIFIED BY FORD AS AN 85 ½ MODEL. THERE WERE ONLY 9844 CARS SOLD DURING ITS PRODUCTION YEARS. 4508 IN 1984, 1515 IN 1985, 439 IN 1985 ½ MODEL, AND 3382 CARS IN 1986 ITS LAST YEAR. I WAS TOLD BY THE PREVIOUS OWNER THAT THE VIN MADE THIS CAR NUMBER 438. I HAVE A CERTIFICATE THAT SHOWS IT WAS BUILT ON THE LAST DAY OF PRODUCTION. HE HAD OWNED THE CAR FOR 5 YEARS.
I HAVE THEN PUT IN LARGER FUEL INJECTORS AND FUEL PUMP, COLD AIR INDUCTION, A BOOST CONTROLLER TO TURN UP THE BOOST ON THE TURBO, A FRONT MOUNT INTERCOOLER FROM STINGER, A 3" DOWNPIPE FROM THE TURBO, A CUSTOM MANDREL BENT 2 ½" EXHAUST, AND A SPEC STAGE 1 CLUTCH. I HAVE NOT PUT THE CAR ON A DYNO, BUT BELIEVE WE ADDED AT LEAST 75 HP WITH THE UPGRADES.
THE EXTERIOR CONDITION IS EXCELLENT. IT HAS BEEN PAINTED ITS ORIGINAL COLOR 2R JALAPENO RED. IT IS A RUST FREE CAR AND HAS NEVER BEEN WRECKED. THE PASSENGER SIDE DOOR APPEARS TO HAVE A VERY SLIGHT PARKING LOT DOOR DING, BUT NO SCRATCH IN THE PAINT, SO NOT SURE WHAT HAPPENED. I BELIEVE THIS CAR HAS SPENT MOST OF ITS LIFE IN TEXAS. THE PAINT IS IN EXCELLENT CONDITION AND HAS NEW WEATHER STRIPS, HEADLIGHTS, PARKLIGHTS, TAILLIGHTS, AND HEADLINER. THE INTERIOR IS LIKE NEW. IT HAS WEAR ON THE LEATHER GEAR SHIFT KNOB DUE TO IT DRYING OUT. THE CAR HAS ICE COLD A/C WHICH HAS BEEN CONVERTED TO 134A.
I JUST PUT NEW RUBBER ON THE REAR OF THE CAR. I HAVE 3 OF THE GOODYEAR VR50 EAGLE BACKS WHICH WERE THE SAME SERIES TIRE WHICH IT ROLLED OFF THE SHOWROOM FLOOR WITH. I DO NOT HAVE A FOURTH TIRE BUT YOU COULD FIND ANOTHER IF YOU WANTED TO PUT THE ORIGINAL BRAND TIRES ON THE CAR. THESE TIRES ARE IN GREAT SHAPE.
A COUPLE OF MINOR PAINT STONE CHIPS ON THE FRONT AND THE SHIFTER KNOB AND THE DOOR DING ARE THE ONLY THINGS THAT I KNOW OF ON THE CAR THAT MIGHT NEED ATTENTION TO THE BEST OF MY KNOWLEDGE. THIS IS A VERY NICE CAR.